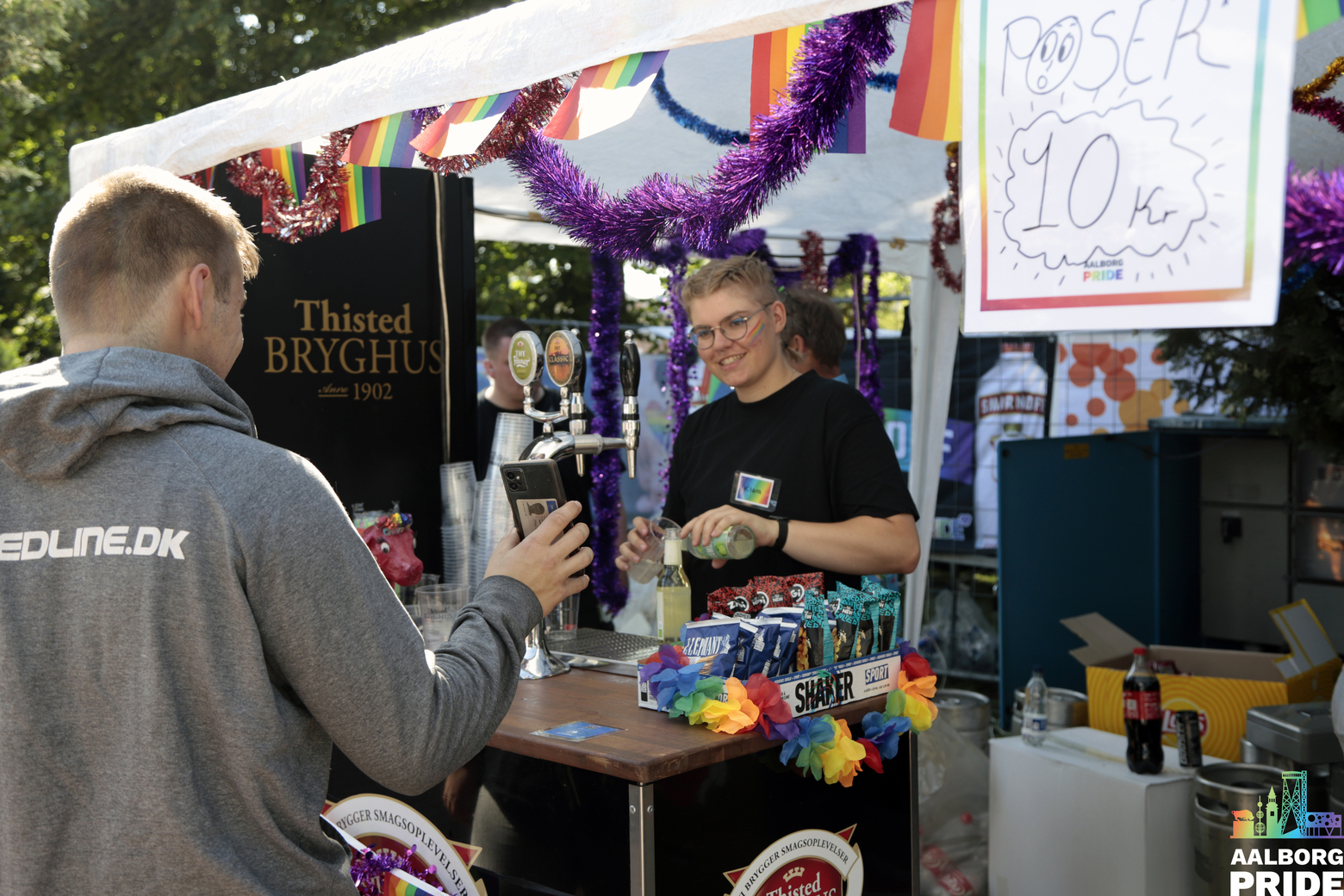 Become a Volunteer at Aalborg Pride
Become a driving force for diversity and inclusion — We are always on the lookout for enthusiastic volunteers to strengthen Aalborg Pride. Sign up now and make a difference!
WHY VOLUNTEER?
Why become a volunteer and what can you expect from the day and from us? It's always exciting to try something new, and you'll have plenty of opportunities to meet new people. It will be a festive and colorful day with a great atmosphere, and the joy of being able to celebrate who you are while also contributing to the LGBTQ+ community. Anyone can volunteer; you don't have to be a part of the LGBTQ+ community. You can also sign up as an ally. It's also a good opportunity to step outside your comfort zone, or if you don't have anyone to go to Pride with, you'll surely make new acquaintances as volunteers.
DIFFERENT ROLES:
SETUP IN THE MORNING:
Our 'morning team' will act as our 'handy-people,' assisting with the final setup of the Pride event. The types of tasks will vary, but they will mostly be practical things that we need help with. This would be an ideal role for those who want to contribute before the parade itself begins, so that they can help out but still have the opportunity to participate in the parade.

BAR:
As part of the bar crew, your main task will be to serve drinks to thirsty guests. We prefer that you are over 18 years old. Expect it to be busy, and be prepared to interact with many people in a short period of time. Previous bar experience is not a requirement. The bars will only open once the parade reaches Karolinelund, but there may be a need for bar setup, carrying drinks into place, fetching cups, etc.
SAFETY GUARD:
As a safety guard, you are responsible for ensuring that everyone feels good at the Pride event and that the area looks nice. You should also expect to be the one who 'guides' the parade around the city, ensuring that it proceeds smoothly. You will generally work in pairs, so no one works alone during the day. Our head of security, Søren, makes sure everyone is doing well, and if any uncomfortable situations arise, he takes care of them. Secondary tasks for the guards may include keeping the area tidy, picking up some trash, or whatever else is needed.
AFTER-PARTY SECURITY(limited number):
As the title suggests, we need a handful of people to serve as security for our after-party. The shift will last from approximately 8:00 PM to 4:00 AM. You will work alongside our experienced security lead, Søren, who has handled this task many times before and knows the routine. As after-party security, your job is to ensure that everyone has a great time and to assist people if they start feeling unwell. Additional tasks may include checking tickets at the entrance, etc. Your primary responsibility is to make sure everyone has a fun, safe, and secure party all evening long. You should be prepared for anything, and it would be an advantage if you have experience with security work, although this is not a requirement. If any uncomfortable situations arise during the party, you should be prepared to intervene.
INFO-TENT:
We need people to staff our information area. We will have both an information booth and also need some people to help guide participants into their places in the parade, set up booths, manage the tombola, etc. If you are service-minded, you would be perfect for this task!
RUNNER:
The 'Runner' position encompasses all tasks throughout the day. Consider this role as the fire extinguishers of the day. You'll be spending most of the day with our volunteer coordinator. Who needs a handful of people who are ready for any task, whether it's moving kegs, fetching cups, assisting in other areas of responsibility, or any other unexpected tasks that may arise. You'll have a blast, but put on your fast shoes because the pace will be quick!
CLEANUP:
At the end of the day, everything needs to be packed up. We expect all volunteers to stay and help in the late afternoon. Tasks will include taking down tents/stalls, practical tasks, moving items back into place, gathering trash bags, etc. We will provide gloves and other necessary equipment to ensure you're equipped for the job.
''Put me wherever you need me'':
The last option is for those who are ready for any task and are willing to be placed wherever there is the most need, according to our planning. So if you just want to help out and are not 'picky' about the type of task you are assigned, then this is the right role for you! It makes our job a little easier, and we will try to accommodate any preferences you may have.   
Remember, as volunteers we all contribute where the need is greatest, so everyone can have a fantastic day. Of course, we strive for everyone to have the opportunity/time to participate in the Parade, but there are some tasks that need to be carried out during the parade. However, we aim to accommodate people's wishes to take part in it.
We can't wait to meet all you fabulous souls and have an absolutely glittering,
show-stopping, fabulous day together🌈✨